Apple Merges iPod & iPod photo lines
CUPERTINO, California—June 28, 2005—Apple today announced that the iPod and iPod photo lines are merging, creating a single line of white iPods that all feature colour displays with the ability to view album artwork, photos and play slideshows in stunning colour.
The simplified iPod line-up features a 20GB model, holding up to 5,000 songs priced at just £209 (inc VAT) and a 60GB model, holding up to 15,000 songs priced at £299 (inc VAT). Also starting today, iPods will offer an easy to use Podcast menu, including bookmarking within a Podcast and the ability to display Podcast artwork in colour.
"iPod customers love to enhance their listening experience with colour," said Greg Joswiak, Apple's vice president of iPod Product Marketing. "By simplifying our iPod line-up to include 20GB and 60GB models with colour screens and the new Podcast menu, iPod and iTunes provide the world's easiest and appealing way to discover, subscribe, manage and listen to Podcasts."
iPod's colour display provides a crisp, clear full colour experience for users to take their entire photo library with them or for viewing album artwork, calendars, contacts and games.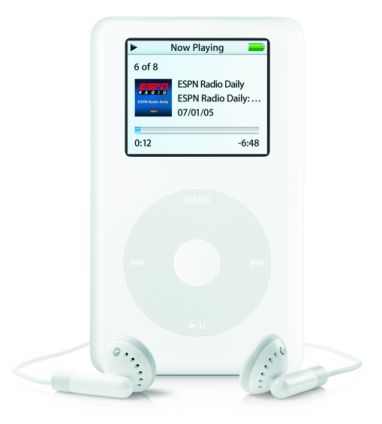 The 60GB iPod holds up to 25,000 digital photos, and the 20GB iPod holds up to 20,000 digital photos. Both models feature the ability to import photos from a digital camera with the optional iPod Camera Connector and let users combine their favourite music and photos to create slideshows for viewing right on their iPod or for sharing with family and friends on a big screen TV.
The new version of iTunes (also announced today) enables anyone to quickly and easily find and subscribe to their favourite Podcasts so that every time there's a new episode, it's automatically downloaded to their Mac or PC and Auto-Synced to their iPod. iTunes also makes it easy to manage multiple Podcast subscriptions with simple organisation and display by episode and date.
iPod and iTunes are leading the digital music revolution. With over 15 million iPods sold as of March 31, the iPod is the world's most popular digital music player, and the iTunes Music Store is the number one online music store with over 430 million songs purchased and downloaded worldwide.
Pricing & Availability
The 20GB and 60GB iPods for Mac or Windows are available immediately worldwide for a suggested retail price of £209 (inc. VAT) and £299 (inc. VAT) respectively. The new iPod U2 Special Edition also includes a colour screen and is now more affordable at just £229 (inc. VAT), and the 1GB iPod shuffle is now just £89 (inc. VAT).
The new Podcast menu is available starting today via a free iPod software update for all Click Wheel iPods and iPod minis from www.apple.com/uk/ipod.
All iPods are available through the Apple Store (www.apple.com/uk), Apple's retail stores and Apple Authorised Resellers.
Each iPod with colour display includes earbud headphones, a USB 2.0 cable, a USB power adapter and iTunes for Mac and Windows computers. iPod shuffle includes earbud headphones, lanyard and iTunes for Mac and Windows computers.
Optional accessories with the following suggested retail prices include the iPod dock kit for £25 (inc. VAT), in-ear headphones for £25 (inc. VAT), the iPod Camera Connector for £19 (inc. VAT) and FireWire cable for £15 (inc. VAT). Laser engraving is available for iPod for free from the Apple Store (www.apple.com/uk) and can include two lines of text with up to 27 characters per line.
iPod requires a Mac with a USB 2.0 port or FireWire*, Mac OS X version 10.2.8 or 10.3.4 or later and iPhoto 4.0.3 or later; or a Windows PC with a USB 2.0 or FireWire port or USB 2.0 or FireWire card and Windows 2000 with Service Pack 4 or later, or Windows XP Home or Professional with Service Pack 2 or later, and Adobe Photoshop Album 2.0 or Elements 3.0 or later.
*FireWire options require an optional cable, sold separately.
Battery life and number of charge cycles vary by use and settings. See www.apple.com/uk/batteries for more information.
Music capacity is based on four minutes per song and 128-Kbps AAC encoding; photo capacity is based on iPod-viewable photos transferred from iTunes.
Apple ignited the personal computer revolution in the 1970s with the Apple II and reinvented the personal computer in the 1980s with the Macintosh. Today, Apple continues to lead the industry in innovation with its award-winning desktop and notebook computers, OS X operating system, and iLife and professional applications. Apple is also spearheading the digital music revolution with its iPod portable music players and iTunes online music store.
And for those who don't want to follow the rest of the world Creative have another new ZEN.
http://www.engadget.com/entry/1234000723048894