Canon launches the world's first four-Megapixel single-CCD digital video camera - the MVX4i
Canon, leader in photographic and imaging technology, is pleased to announce the launch of the 4.29 Megapixel MVX4i digital video camera - the first ever to include over four Megapixels in a single CCD sensor.
With its DIGIC DV processor, RGB Primary Colour Filter and a host of advanced digital-still-camera features, the MVX4i delivers superb video quality and impressive digital still results that surpass those of many purpose-built digital cameras.
Canon's new consumer range flagship digital video camera also features a 10x optical zoom, high resolution 16:9 widescreen mode, built in stills flash and mini video light, a super bright 2.5in colour LCD, an electronic image stabiliser (EIS) and an SD memory card slot for recording Motion JPEGs and JPEGs.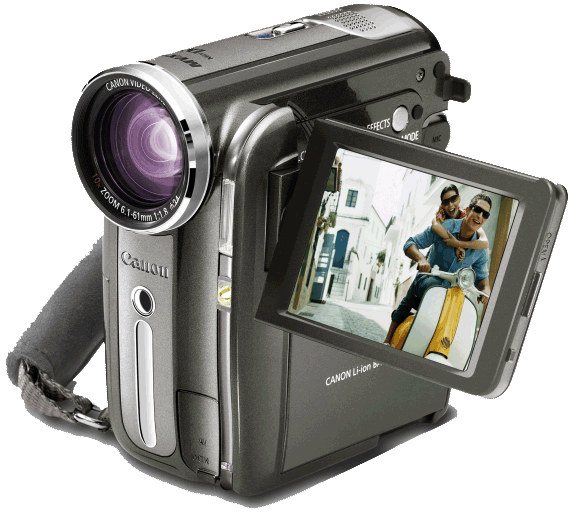 Canon MVX4i
The MVX4i is PictBridge compliant and features a Print/Share button for simple PC-less printing of digital stills direct to compatible photo printers, as well as PC uploads. Beautifully sculptured ergonomics include flush switches, recessed buttons and a super-compact body, expected to appeal to consumers demanding feature-rich products with superior finish quality and design.
"The MVX4i is born out of a convergence of core Canon technologies," said Mogens Jensen, Head of Canon Consumer Imaging Europe. "The best of our precision optics, image processing, video and digital still technologies have been brought together into one stylish and superbly specified unit."
Two in one
The RGB Primary Colour Filter enhances tonal accuracy and colour definition. Rather than simply "stretching" video frames to create digital stills, the DIGIC DV split-path processor renders stills and video according to their own specific requirements.
The result is 4 Megapixel digital still photos of a quality that surpasses many digital still cameras. Photos and video can even be recorded simultaneously. When shooting stills, up to 60 frames can be shot in a single 5fps burst – a feature very few digital cameras are capable of achieving.
Outstanding digital video functionality
For sweeping panoramic effect, the MVX4i delivers true high resolution 16:9 widescreen mode. A new ultra compact, all-glass, 10x zoom lens delivers crisp, high contrast, corner-to-corner clarity. ElS helps to stabilise footage, especially useful at high zoom magnification.
Built in digital camera
Avoiding complicated menus, an AE Mode dial gives photographers immediate access to a host of shooting modes and digital still camera functions. Special Scene modes help with great results in tricky lighting conditions.
The same 9-point AiAF found in Canon's high end digital still compact cameras helps keep images and video sharply in focus – even with off-centre subjects – and sophisticated light metering modes (evaluative, centre weighted average and spot) help get great exposures.
Light and sound – under control
For shooting in low light or zero lux conditions, the MVX4i's mini video light and Light Guide Flash extend after dark options. A manual audio level control is also incorporated to keep sound recording levels even.
Easy prints
To create album quality photo prints up to A4 size, the MVX4i can be connected to any PictBridge-compatible printer. Printing and PC uploads are simplified to a single-step process with the Print/Share button, which illuminates as soon as a connection is established.
Motion-JPEG and online sharing
Internet sharing of clips and footage has been simplified with the capacity to record Motion-JPEG movies direct to the MMC or SD memory cards.
Depending on memory card capacity, up to 60 minutes of Motion JPEG can be recorded straight to card.
MVX4i purchase entitles the owner to CANON iMAGE GATEWAY membership: 100MByte of online space for sharing digital stills and MPEG clips.
Rather than sending large video clips or images as email attachments, users can upload their favourite material to their own secure galleries on CANON iMAGE GATEWAY and use a site facility to send gallery links to family and friends.
Availability
The MVX4i will be available from September 2005.
Reader enquiries
UK – 08705 143723/www.canon.co.uk
Eire – (01) 2052400/www.canon.ie
Full specs
Specs (as supplied by Canon. BC) are available here in PDF format.
About Canon (UK) Limited
Canon is a world-leading innovator and provider of imaging and information technology solutions for the home and office environments.
Canon has a global philosophy of Kyosei - living and working together for the common good, which clearly demonstrates commitment to customers, staff and the environment shared by all.
Canon (UK) Ltd is the UK marketing and sales operation for the US$33 billion global company based in Tokyo, Japan. In the UK Canon employs over 2,000 people in various locations including Ireland and has achieved sales of £522m in 2004.
The main business focus for Canon (UK) Ltd, covers two clearly defined market segments - Business Solutions and Consumer Imaging.
Business Solutions covers the office and professional printing environments , including multifunctional printers, IT consultation and peripherals - photocopiers, printers, fax machines, document management hardware & software, multimedia LCD projectors.
Consumer Imaging covers input solutions (film and digital cameras, camcorders, binoculars and scanners) and output solutions - Ink Jet printers, fax machines, desktop multifunctionals and multimedia LCD projectors.
Slightly tweaked for easier reading. Bob C
Oh, and camcorder makers are not allowed to quote recommended or suggested prices, so I've had to dig around a bit, and it's my view that the street price for this model is likely to be a touch under £1,000, inc VAT. BC
2-8-05