AMD Helps Businesses Break Free From Limitations With AMD Turion 64 Mobile Technology
Small to Mid-size Businesses Worldwide Offered a True Choice for Mobility with HP Compaq nx6125 Notebook PC Powered by AMD64 Technology
SUNNYVALE, CALIF. - June 22, 2005 - AMD (NYSE: AMD) today introduced a new level of performance for highly mobile business professionals with AMD Turion(tm) 64 mobile technology model ML-40, the latest addition to AMD's popular 64-bit processor family optimized for mobility.
AMD Turion 64 mobile technology is designed to bring award-winning AMD64 performance to thinner and lighter notebook PCs with extended system battery life, enhanced security, and compatibility with the latest graphics and wireless solutions. Offering outstanding performance in both 32-bit and 64-bit environments, AMD64 technology is a smart investment today that will not be obsolete tomorrow.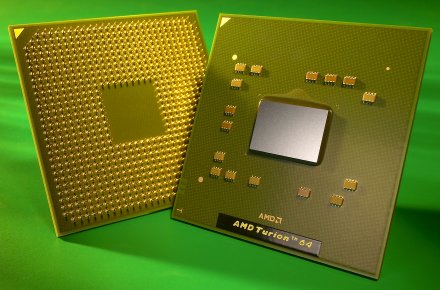 Marty Seyer, corporate vice president and general manager, Microprocessor Solutions Sector, AMD, said, "AMD Turion 64 mobile technology is the only available processor offering both 64 bits and enhanced security for thin and light notebook PCs, which are preferred by many business professionals".
"AMD's open-standard architecture enables a platform that provides the industry's best options for wireless, graphics, 64 bits and security, while providing a smooth 64-bit migration path to IT buyers worldwide."
The first notebook PC based on the latest AMD Turion 64 mobile technology model is being introduced today by HP. The HP Compaq nx6125 notebook PC, which is expected to be available worldwide starting this month, offers mobility, advanced security features, ease of use and real business value to the small to mid-size business professional.
Bob C adds: Prices for the nx6125 in the USA start at $999, see this link for specs and customisation options. For more about the Turion CPU, see this link.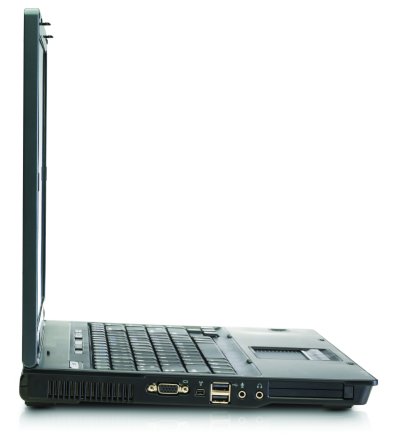 Dan Forlenza, vice president, worldwide commercial notebooks, Personal Systems Group, HP, said, "As a leading worldwide supplier of mobile business solutions, HP enables businesses to use technology for a competitive edge".
"We have chosen to incorporate the latest AMD Turion 64 mobile technology in our new business notebook PC in order to offer our customers a true choice in high-performance mobile computing that delivers an outstanding business value without sacrificing security, reliability and ease of use."
Together with other industry leaders, AMD enables a best-in-class ecosystem of open industry-standard technologies, helping PC manufacturers to deliver feature-rich systems that satisfy the variety of ways in which people use their notebooks.
Availability
AMD Turion 64 mobile technology in the form of the ML-40 is available immediately worldwide. AMD Turion 64 mobile technology is also available in models ML-40, ML-37, ML-34, ML-32, ML-30, ML-28, MT-34, MT-32, MT-30 and MT-28.
In order to help consumers and business professionals simplify their notebook purchasing decisions, AMD Turion 64 mobile technology uses a series of model numbers designed to provide a simple designation of both relative performance and degree of mobility within the processor family.
Pricing
AMD Turion 64 mobile technology ML-40 is priced at $525 in 1,000-unit quantities. For pricing details please visit: http://www.amd.com/pricing.
About AMD Turion 64 Mobile Technology
AMD Turion 64 mobile technology is made for mobility without compromise. The technology is designed to be the most advanced family of 32-bit and 64-bit Windows-compatible processors available for mobile PCs, enabling thinner and lighter notebooks plus compatibility with today's most popular wireless and graphics solutions.
AMD Turion 64 mobile technology also features award-winning AMD64 performance, readiness for 64-bit applications, AMD PowerNow! technology for extended system battery life, and security with Enhanced Virus Protection.*
* Enhanced Virus Protection (EVP) is only enabled by certain operating systems including the current versions of Microsoft Windows, Linux, Solaris and BSD Unix. After properly installing the appropriate operating system release, users must enable the protection of their applications and associated files from buffer overrun attacks.
Consult your OS documentation for information on enabling EVP. Contact your application software vendor for information regarding use of the application in conjunction with EVP. AMD and its partners strongly recommend that users continue to use third party anti-virus software as part of their security strategy.
About AMD
AMD (NYSE:AMD) designs and produces innovative microprocessors, Flash memory devices and low-power processor solutions for the computer, communications and consumer electronics industries. AMD is dedicated to delivering standards-based, customer-focused solutions for technology users, ranging from enterprises and governments to individual consumers. For more information visit: http://www.amd.com.
Slightly tweaked for easier reading. BC