September 5, 2005 - 22:24
Red Giant Software Releases Primatte Keyer 3 and Key Correct Pro
Amsterdam, IBC, stand number 7.635 - (September 9, 2005) - Red Giant Software, publisher of a line of professional desktop tools including the award-winning Magic Bullet technology, will announce and demonstrate the availability of Primatte Keyer 3 and Key Correct Pro.
Primatte Keyer's enhanced versatility adds increased functionality to the production pipeline of independent filmmakers and visual effects artists. Key Correct Pro is a set of 15 tools to help motion graphic and visual effects artists achieve more realistic composites.
Click on the Primatte Keyer image below for a full-res (1920x1200) version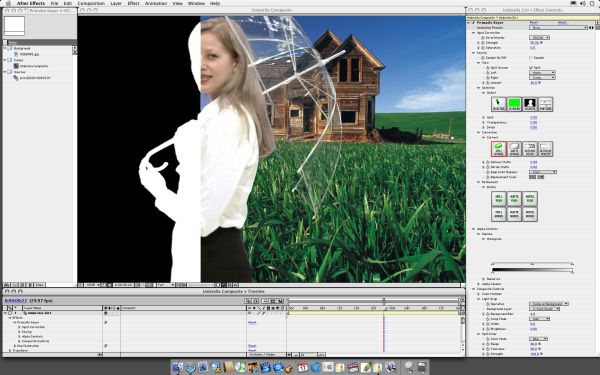 Primatte Keyer, published under exclusive agreement with Photron USA, is the most advanced software version for After Effects, Discreet combustion, and Avid AVX - enabling artists to extract keys from any colour background for compositing. The software overcomes matte extraction challenges including uneven lighting, subtle shadows, and edge light contamination (spill) prior to compositing. New features include:
· New Deartifacting input correction for all formats including DV and HDV
· New feature rich library and accuracy inline with other Primatte versions
for Discreet, Shake, etc.
· Updated UI and new split screen View modes for more efficient keying
· Alpha channel adjustment integrated into the keyer
· Integrated secondary spill removal, simple and accurate Colour Matching,
and Light wrap built in to the keying interface
Key Correct Pro is a set of 15 plug-ins designed to help AE users create better composites with built-in keying tools. The plug-ins can be in used in combination with any keyer to better enhance the final result. Features include:
- Accurate matte feather tools
- Colour Matching plug-in with automatic matching and colour balance
adjustment
- Alpha cleaner plug-in for fixing noise and filing holes in mattes
- Complete support for 8 and 16 bit operations for all plug-ins
"With the market explosion of HDV cameras, Primatte Keyer fills a technology gap with quality tools at an affordable price. We are also proud to release a new compositing tool with 16-bit support and other fine tuning features for the best end result. We look forward to feedback on how these unique product offerings are used in future productions," said Sean Safreed, Partner at Red Giant Software.
Pricing and Availability
- Primatte Keyer 3 for Adobe After Effects is £395 (€575) excluding VAT.
Updates to Discreet combustion and Avid AVX versions will be available in Q4 2005.
- Key Correct Pro is £225 (€325) excluding VAT.
- Composite Wizard customers can upgrade to Key Correct Pro for £85 (€125) excluding VAT.
Visit http://www.thecarpark.net/products_primatte_keyer_3.htm for additional product information.
Slightly edited by Rob C
September 6, 2005 - 22:01
#1
Why can't I see the image in Firefox?
We are concerned that, with one of our computers, the image in this thread can't be seen; instead a link to the picture is present.
This is happening on Firefox versions 1.02 and 1.06, but the image is there using Internet Explorer. The image is also fine on other PCs running Firefox 1.06.
Anyone know why this may be the case?
Rob