Red Giant Software Announces Magic Bullet Editors 2 with Real-Time Film-Look Acceleration using NVIDIA graphics technology
San Francisco, CA, June 28th, 2005 – Red Giant Software today announced Magic Bullet Editors 2, a plug-in for popular editing applications that enables moviemakers to add film treatments right on the timeline.
Using NVIDIA graphics technology, Magic Bullet Editors now runs up to 12x faster than the CPU alone – allowing users to do real-time film-look treatments on the desktop in standard definition.
Magic Bullet Editors 2 also adds support for Apple Motion 2, in addition to the existing applications: Avid AVX 1.5 systems, Apple Final Cut Pro, Adobe Premiere Pro, and Sony Vegas.
Based on The Orphanage's award-winning Magic Bullet technology, Magic Bullet Editors delivers film stock emulation, diffusion filters, and easy-to-use film-look presets inspired by popular productions, such as The Matrix, Saving Private Ryan, Traffic, and Amelié. Magic Bullet Editors' 65 custom-designed Looks alter shading, contrast, and tints of scenes to mimic the elusive look of film. Users can choose preset Looks from a pop up menu or customise and save their own film treatments.
"The power of a GeForce 7800 GTX GPU with PureVideo technology, coupled with Magic Bullet Editors 2 gives post-production houses a huge productivity boost for a relatively small investment," said Scott Vouri, general manager of multimedia at NVIDIA. "The brand new architecture of the GeForce 7800 GTX - 2X performance improvement, Shader Model 3.0 pipe design and high definition post-processing lets our partners deliver movie content creation, editing and delivery solutions that provide incredible image quality at previously unattainable speeds."
"For the first time ever, professionals and consumers can experience high-quality real-time film-look effects that are comparable to results achieved on systems costing tens of thousands of dollars," said Sean Safreed, partner at Red Giant Software. "On HD video, what used to be a painful frames per second render, now runs at many frames per second, saving the user days of rendering time."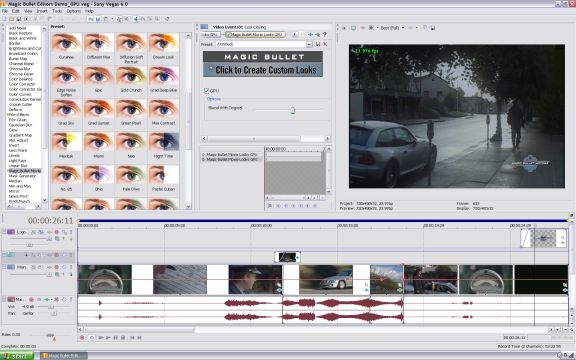 Magic Bullet Editors 2 in Sony Vegas
New Features in Magic Bullet Editors 2
- Real-time Look Suite acceleration with 6 or 7 series NVIDIA graphics card
- Playback acceleration is more than 12 times faster
- Render to disk acceleration is more than 6 times faster
- New De-artefact tool to smooth out DV and HDV source media
- Added support for Apple Motion 2 Fx Plug
- 10 new Magic Bullet Looks to emulate movie looks and film treatments
Compatible programs
Mac OS
- Apple Final Cut Pro 4.1 or later
- Apple Motion 2.0 or later
- Avid Xpress Pro 4.5 or later
Windows
- Adobe Premiere Pro 1.5
- Sony Vegas 5.0 or later
- Avid Xpress Pro 4.5 or later
System Requirements
For Mac OS
- Mac OS X 10.3 or later
- NVIDIA 6800 or equivalent graphics cards with 128 MB VRAM or more
(required for GPU acceleration)
- Apple Power Mac G5 (dual-processor recommended)
- 512MByte of RAM or more
For Windows
- Windows XP
- NVIDIA 6 or 7 series graphics cards with 128 MB VRAM or more (required for GPU acceleration)
- Intel Pentium 4 single or dual-processor system or equivalent
- 512 MByte of RAM or more
Pricing & availability
Magic Bullet Editors will be available by the end of August 2005 through Red Giant Software for £225 (£265 inc VAT). Upgrades from any previous version of Magic Bullet Editors are £58.73 (£69) to download or £85 (£99) for the box. See www.thecarpark.net for additional product information.
About The Orphanage
Founded by former Industrial Light + Magic visual effects artists Jonathan Rothbart, Stuart Maschwitz, and Scott Stewart, The Orphanage (www.theorphanage.com) is focused on high-end VFX services and animation for features and broadcast, original motion picture and television production, and digital filmmaking technology development. Its first commercialised technology, the groundbreaking digital filmmaking software Magic Bullet Suite, was introduced at the 2000 National Association of Broadcasters convention in Las Vegas, Nevada.
About Red Giant Software
Red Giant Software LLC (www.redgiantsoftware.com) is a San Francisco-based company that develops and distributes professional
tools for digital video production. Products are available as stand-alone products and plug-ins for popular video editing and effects applications including Adobe After Effects, Adobe Premiere Pro, and other compatible applications such as Apple's Final Cut Pro. The products are based on production-proven technology developed by visual effects veterans.
About The CarPark
The CarPark provides a unique combination of creative marketing services coupled with business-to-business software distribution, to supply quality digital video software tools for the discerning editor. From miles away, in Magherafelt, Northern Ireland. For more information visit www.thecarpark.net or call +44 (0)2879 632614.
Slightly tweaked for easier reading. BC
Isn't that screenshot of Vegas? :D
About the RT Filmlook...finally GPU's are getting faster than they should be...hopefully alot of companies take notice of this, and use them on filters.