Recreated thanks to www.google.com's cache
Originally posted 29-04-2005, 11:11 #1
bcrabtree
Review of HP dvd640i LightScribe EIDE internal dual-layer burner
--------------------------------------------------------------------------------
As the launch of DVdoctor's new-look web site nears, I thought I'd let people know about some of the articles that are in the pipeline.
I'll be making individual postings each of which will, when the article goes live, be the place where you can discuss the piece and where there will also be a link to it - though the site will have its own home page and not appear simply as a sub-page of HEXUS's site.
So, watch out for our review of HP's dvd640i.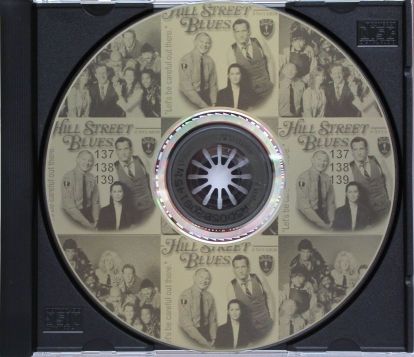 My First LightScribe label - Bob Crabtree (54 yrs)
This is a little pricey by the standards of other Double Layer internal EIDE DVD burners - currently, the price to beat for the HP is £68 inc VAT and delivery - but there's a reason.
The HP can directly print/burn images and words to the label side of a suitable disc. That's because it uses HP's LightScribe technology.
"Burn Flip Burn" is the catchphrase I'm seeing bandied about, and it appears, for instance, on Verbatim's LightScribe media.
Here are two further images
This one is a full-res version of the image you see above and is (as you may have gathered) the first disc label I produced using this burner.
The disc was a Verbatim LightScribe 52x CD-R, and I'll be doing lots of tests with this media stock, and with Verbatim's LightScribe DVD+R media.
This one is of the supplied SureThing software that was used to create the label, and shows you what the original design looked like on screen.
I've spent little more than an hour messing with the software so far, and don't feel it appropriate to comment yet in any detail. What is clear, though, is there's a fair bit of power available and the interface is easy to use.
I'll be trying to round up other LightScribe-compatible software, too, since I guess that some will offer useful features that will be absent from others.
These will include Roxio's Easy Media Creator 7.5 (in the bag), which will be getting a full review as well. If you know of other compatible offerings, please let me know.
The colour of the photo of the disc is just a fraction out - in life, it's a bit more bronze looking - but I think it shows you how rather nice these LightScribe labels can look even though, currently (and for at least the next year or so), the labels (and hence the printing) are monochrome.
The review will include quite a bit of background information about the "roadmap" for LightScribe, including improvements such as faster label (currently, a full-face label takes 30 mins to burn); the arrival of full-colour; and more.
Bob C
--------------------------------------------------------------------------------
Last edited by bcrabtree : 29-04-2005 at 11:24. Reason: More tidying up