Another First for Ricoh - DVD+R 2.4x Double Layer Printable.
* First inkjet-printer-compatible DVD+R Double Layer disc
* Fast creation of highest quality printed DVD labels
* Printable surface offers increased reliability
With the first DVD+R 2.4x double layer disc printable by inkjet printers, Ricoh now offers all film and music fans a perfect optical storage medium that ideally combines large storage capacity with reliable and simple archiving.
Due to the DVD+R 2.4x Double Layer disc's 8.5Gigabyte capacity - 1.8 times larger than traditional DVD storage media with storage capacities of 4.7 Gigabyte - approximately four hours of film can be recorded without interruption (bit rate: 4.5Mbps).
The new Ricoh DVD+R Double Layer Printable offers the user the additional advantage of simple, reliable and high-quality direct printing using an inkjet printer, making it the perfect solution for video lovers who want to archive their best films in the highest quality and with a high-class appearance.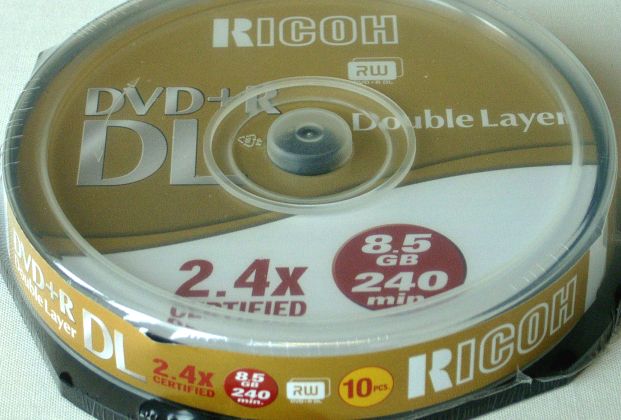 Main features of the Ricoh DVD+R 2.4x DL Printable
* Due to Ricoh's unique and high-quality surface coating a pin-sharp printed image is created when printing onto these new DVD storage discs. High-quality, brightly-coloured DVD labels can be created using an inkjet printer.
* With its large data capacity of 8.5Gigabyte the DVD+R 2.4x DL Printable is an optical medium ideally suitable for extensive data backups and especially of course for uninterrupted archiving of films in DVD quality (approximately four hours at 4.5 Mbps). At the same time the discs are compatible with Double Layer DVD-Video/DVD-ROM and can be read by most DVD players and DVD-ROM drives.
* As with other Ricoh storage media the DVD+R 2.4x Double Layer Printable discs are produced using the exclusive Ricoh Inverted Stack manufacturing process thus ensuring the highest-quality level of recording and optimised durability. At the same time Inverted Stack stands for low-cost production of a large volume of goods with high-level finishing. In order to guarantee the user perfect recording quality, the course of production is also completely subject to extensive processes of rigorous quality checks.
* The "Advanced SD Dye–type" recording elements developed by Ricoh ensure superior stability, excellent writing speed and durability even after the label has been printed.
The Ricoh DVD+R 2.4x Double Layer Printable comes in a 10-disc spindle and is expected to be available on the European market at the end of July 2005.
The selling price has yet to be determined.
For further details on any of the products in the Ricoh range
Website: ricohpmmc.com
If anybody actually tries these, and establishes whether or not they are usable with DVD video files burnt to such a "double (not dual) layer DVD+R" - please report it here. TIA.
We were all calling for inkjet printable double layerers, until we realised they don't work for DVD video anyway. :-/
I'm a bit curious about Ricoh's >First inkjet-printer-compatible DVD+R Double Layer disc< claim.
For some weeks, Ian at Lynx has been advertising Ritek DL injet printable DVD+R. Up till now they've always been out of stock when I've looked, but today a batch of 10 (ordered yesterday) arrived. Kprobe identifies them as the same Ritek D01 media that have been available for 9 months under the Traxdata brand and which are (as far as I'm concerned) the only DL disk to make a video DVD (DVD-ROM book type) which is reasonably compatable with domestic players.
So maybe Ricoh are not first?
Ray Liffen
mooblie,
There was a series of posts in the last month (probably in the DVD forum) about what programs can now handle the layer break properly, though nothing that was 100% definitive.
Ray,
I had doubts myself and that's why the title of the thread uses the word "claims", but I hadn't seen any other firm talking about such products before.
And, of course, it's possible that Ricoh were first but not first in the UK.
Key thing, really, is that such discs are now coming available, not so much who is first with them.
Well, more accurately, the key thing is about our being able successfully to use such discs seamlessly across both layers...
Bob C