Hi guys, Im after some audio advice if possible please. Basically I video stock car & banger racing and need to record the race commentary. I usually use my own microphone connected direct to my camera which the commentator holds together with the stadium PA mic. I use that on XLR 1 and a normal mic in XLR 2 for ambient sound of the racing, then mix the 2 at the right levels when I edit.
But the latest race track we are filming at want us to record the race commentary from the stadium PA system instead of having to hold 2 mics together. Im not really sure which outputs or leads to use as Ive not had to do it before, Ive always used separate mics connected to the camera direct. But I'd like to learn how to tap into PA systems as it could help for other work too.
I would assume I need to change the XLR input from 'mic' to 'line' as the voltage would be different, but Im not sure which connectors and sockets to use from the back of the amp. Ive attached a couple of pics of the stadium PA amp, I was wondering if you could tell me which things I need to connect to where? The 'line 6' has a phono lead running near to where my camera will be, could that be an output, or an input? The last time I was there I didnt have a phono to XLR adaptor so couldnt test it,. but could that be a possibility?
Any help would be great.
Thanks.
Nick.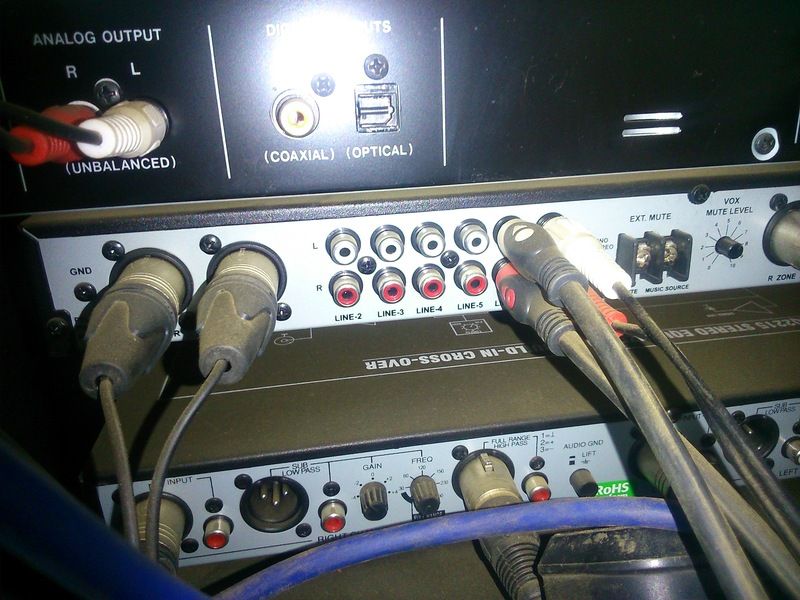 March 31, 2015 - 09:27
#2
Re: Recording PA audio onto video camera vix XLR
Im there at the weekend so will have another look at the make & model and take some better pics. No-one there seems to know how to work it other than to switch it on. The commentator uses a mic and plugs an Ipod into it for the music but apart from that they leave everything as it is. I couldnt see a 'monitor' output or anything obvious that is an output. I guessed the phono's were inputs, its just the lead goes to near my camera location so wasnt sure.
Couldnt go from the 'coaxual' into my XLR camera socket could I?